Nalu | Nosara, Guanacaste, CR
Nosara Yoga and Wellness
Overview
Nosara Yoga Studio blends in nature
The Libid family commissioned Studio Saxe to create a family friendly boutique hotel and multipurpose studio focused on health, wellness, and surfing set in the tropical landscape of Nosara, Costa Rica. The project is another in a long line of sustainable buildings from the boutique firm that blend contemporary design with local craftsmanship. Studio Saxe embraces the natural environment that surrounds and frames the yoga studio architecture, even making a statement by sculpting walls around trees. Individual homes are set in a lush landscape creating both privacy amongst them and openness to private gardens. A multipurpose studio becomes the perfect opportunity for guests, locals, and teachers to interact through classes of TRX, Muay Thai, and Yoga.
‍Concept
Guests at Nalu are provided with individual pavilion 'homes' rather than rooms, located just a few minutes-walk from the beach. By breaking up the mass of the traditionally monolithic hotel, we were able scatter living spaces amongst existing trees making the intervention feel and fit "lighter" as well as create a sense of privacy within the natural world.
Architect Benjamin Garcia Saxe said:
"Our project at Nalu represents the power of simple, low-key, modern tropical architecture. It has quickly become a town favorite, which shows that there is a real desire to occupy spaces that bring people closer to nature, while addressing the needs of contemporary life."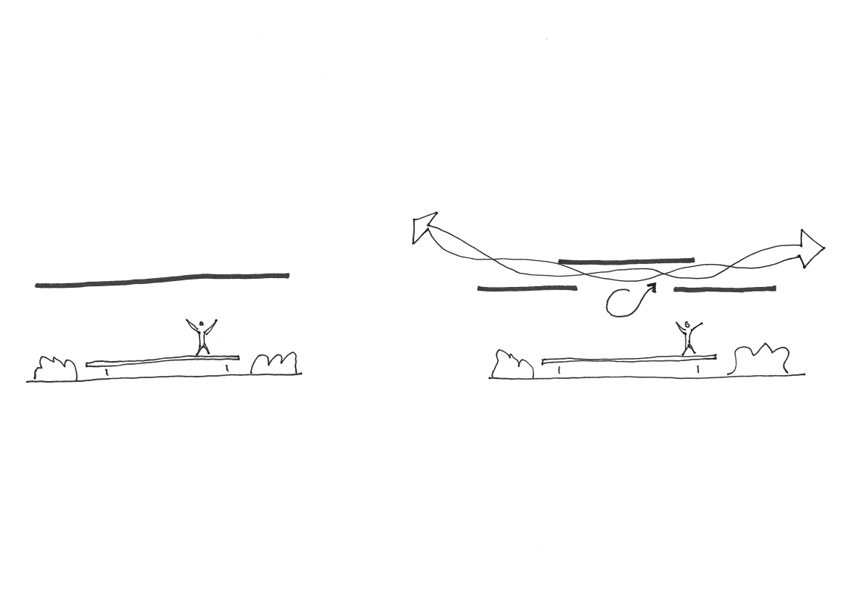 Design
Each room of each pavilion has been carefully positioned following meticulous research into wind and sun patterns to create comfort through bioclimatic design, while ensuring they are all provided with privacy and an individual view out to the landscape. Overlapping recycled timber roofs project out over each pavilion providing shade from the intense equatorial sun and create the perfect opportunities for cross ventilation through a "venturi effect" that draws hot air out and keeps spaces cool. Rooms are connected via corridors that filter dappled sunlight down from the pergola roofs above and frame more views out the lush surroundings
Construction
We intended to create large, open, and fresh spaces using conventional and simple block construction most local builders know how to execute. This combination of simple walls with long spanning concrete beams and lightweight metal roofs create a fast and efficient method of construction. Roofs made of recycled teak planks create uneven patterns that further emphasize this tension between local craftsmanship and modern methods of construction.
More about this project
Embracing the natural environment that surrounds and frames the architecture.
Completed a boutique hotel and yoga studio set into in tropical landscape of Nosara, Costa Rica.
Project Data
Location
Nosara, Costa Rica
Date of Completion
2017
Client
Nalu
Area
620 m2
Project Team
Design Director
Benjamin G. Saxe
Structural Engineer
Sotela Alfaro Ltda.
Electromechanical Engineer
Dynamo Studio
Builder
Construction PROS
Photography
Andres Garcia Lachner
Publications
2017
2017
2017
2017
Download Press Release